Governor names sustainable energy expert to state climate task force
Published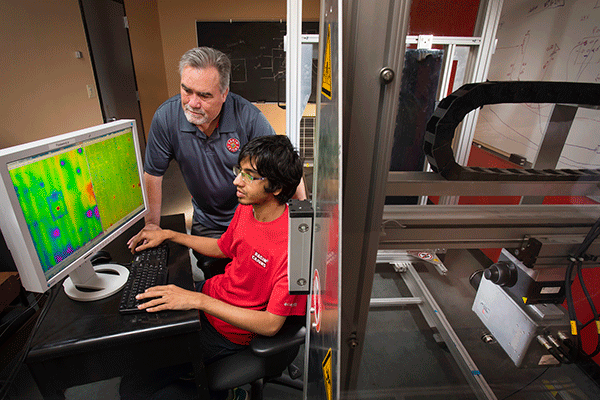 Gov. John Bel Edwards has named a University of Louisiana at Lafayette mechanical engineering professor to the state's newly formed Climate Initiatives Task Force.
Dr. Terrence Chambers is among more than 20 panel members. It includes representatives of state and federal governments, the private sector and academic institutions.
The task force's goal: to recommend strategies to eliminate statewide net greenhouse gas emissions by 2050.
Chambers is director of UL Lafayette's Energy Efficiency and Sustainable Energy Center. He has been a driving force in the University's research of solar and renewable energies.
His partnerships with business helped lead to the creation of the Cleco Alternative Energy Center in Crowley and the Photovoltaic Applied Research and Testing Lab, a solar farm in University Research Park in Lafayette. He holds the Donald and Janice Mosing Eminent Scholar Endowed Chair in Mechanical Engineering.
Two additional faculty members in UL Lafayette's Department of Mechanical Engineering, Dr. Mark Zappi and Dr. Peng "Solomon" Yin, will serve on the task force's Science Advisory Board. Zappi is executive director of the University's Energy Institute of Louisiana, while Yin is an assistant professor of mechanical engineering.
The Science Advisory Board is one of four groups whose work will support the task force. Other topics include equity, law and policy, and financial and economic concerns. 
Chambers said he was "honored to have been chosen" as a task force member.
"I feel this is a testament to the wonderful work that many researchers at UL Lafayette have been doing for many years, particularly through the Energy Institute of Louisiana, to develop strength in the field of renewable energy," Chambers said.
Chambers is one of two task force members chosen from higher education institutions in the state, and the only one from a public university. The other is Robert Verchick, a professor of law at Loyola University in New Orleans.
"I feel that one of the best things faculty can do – both at UL Lafayette and at other institutions statewide – is to serve as an unbiased source of accurate and up-to-date information regarding the potential use of renewable energy in Louisiana. Other ways we can contribute is to provide world class renewable energy research, education, workforce training, and public outreach," Chambers said.
In a press release announcing the task force's creation, the Governor's Office said members would prioritize the need to reduce the state's contributions to climate change "while fully recognizing Louisiana's climate vulnerabilities and its industrial and economic characteristics."
That includes acknowledging the continued importance of the oil and gas industry to the state's economy, Chambers said.
"Louisiana is known to be a leader in the energy industry, and I want to make sure that Louisiana always continues its energy leadership role, even as the nation and the state transition to a more balanced portfolio of traditional and renewable energy sources. 
He continued: "The renewable energy industry is booming all across the country and I want Louisiana to get into the game.  Louisiana workers needs jobs, and the skills and manufacturing facilities needed to support the renewable energy industry are very similar to what we already have to support oil and gas."
"With a little bit of re-training and re-tooling, I believe that many of our service companies could serve both markets, and that the diversification will prevent our workers from being laid off when one industry experiences a low period."
Photo credit: Dr. Terrence Chambers and mechanical engineering doctoral student Deepak Jain Verendra Kumar review data in the University's Photovoltaic Applied Research and Testing Lab. (Photo credit: Doug Dugas / University of Louisiana at Lafayette)