Explore the New Louisiana.edu
Published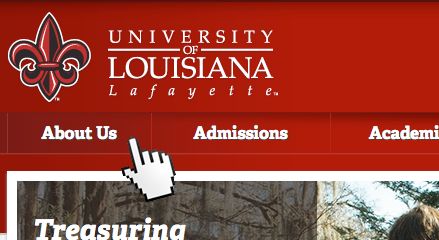 Notice something a little different? We launched the University's new website today, which has been rebuilt from the ground up.
This site has been a priority in strategic efforts to strengthen our University brand, connect with prospective students, and better communicate with our students, alumni, supporters, and others. A substantial amount of work was done to ensure that our new website better conveys who we are and reflects the dynamic people, programs, and places that make up our University.
Today we are launching the "main" University website, along with new sites for Admissions, Housing, and Communications and Marketing. We will continue to move forward as we rebuild and launch additional sites. Revised sites across the University will be appearing in upcoming weeks, so keep a lookout.
Many links within this site will direct you to the old website. These will be cleaned out as we continue to move sites into the new look and content management system.
Help us during this transition and report any bugs or content errors you come across, or send us a note to let us know what you think of the new site!