"My decision to study environmental science stems from my childhood obsession with nature, plants, and being able to spend time outdoors. These are natural resources that I believe every human should have the opportunity to enjoy. Studying environmental science gives me the opportunity to leave the world better than I found it."
You should major in environmental science if:
You love nature and the environment, spending time outdoors, hiking, and camping.
You'd like to explore the intersection of biology, chemistry, physics, and math. 
You want hands-on experiences in classes that take you into Louisiana's unique environment.
Environmental science is the study of the planet's biological, chemical, and geological resources, and how those resources affect humans. Here at UL Lafayette, we apply 3D and 4D thinking with a focus on intensive real-world problem-solving.
Environmental science majors can choose from one of three areas of concentration:
Digital Geography
Environmental Quality
Soil & Water Conservation
Whichever you choose, you'll get experience doing lab and field work, computer mapping, and data analysis and application.
Environmental Science at UL Lafayette
What's Environmental Science Like?
Lab work

Research

Group work & collaboration

Writing

Presenting

Field work
#195
UL Lafayette is No. 25 in the country and No. 195 in the world for our green and sustainability initiatives.
Life as an Environmental Science Major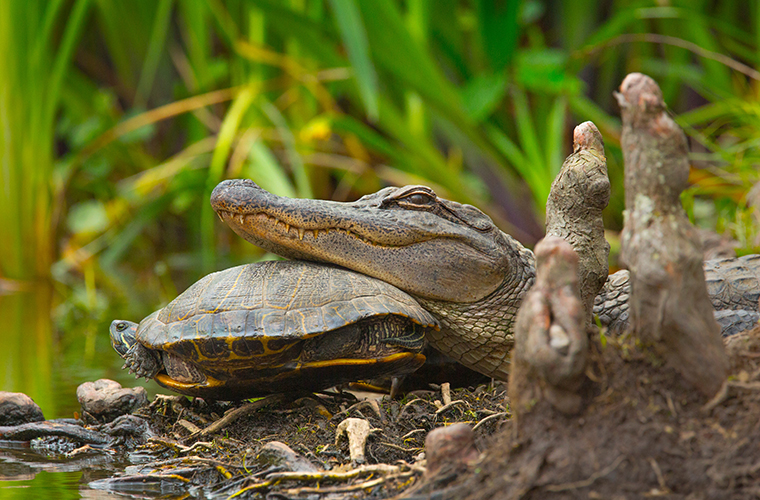 The Battle for Environmental Preservation
Louisiana is home to around 40% of the United States' wetlands and loses an estimated 35 square miles of land a year. Explore, study, and learn how we can save our wetlands and protect our natural environment.
 
Study Abroad & Internships
The School of Geosciences organizes international field trips to major geological sites in countries like Mexico, Canada, Nepal, and across Europe. You can also earn credit toward your degree while studying abroad in countries such as Costa Rica, England, France or Italy.
Field Work
Environmental science majors spend as much time outside in Louisiana's natural environment as they do in the classroom. Many of our courses involve field work experiences across the region, in places like Lake Martin, the Atchafalaya Basin, and along the Gulf Coast.