Criminal Justice Forensics
You should minor in criminal justice forensics if:
Your strengths are in science and math.
You want to use your science background to solve crimes and have an impact in the criminal justice system.
You enjoy working in laboratories.
Combine your interests in chemistry, biology, anthropology, and criminal justice to earn your minor in criminal justice forensics.
Criminal Justice Forensics at UL Lafayette
What's Criminal Justice Forensics Like?
Lab work & research

Group work & collaboration

Writing

Presentations

Internships
We partner with the State Police Crime Lab and the New Iberia Crime Lab for demonstrations, internships, and job opportunities.
Life in the Criminal Justice Forensics Minor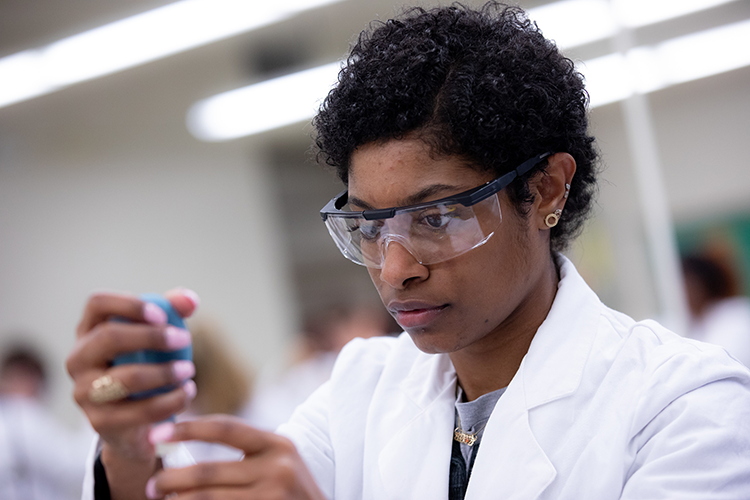 Research with Expert Faculty
Learn analytical chemistry and forensic anthropology in your classes and apply that knowledge in research labs. Explore research topics in forensics and work under professors and mentors in the chemistry, anthropology, and criminal justice departments.
Community Involvement
Share your interests in science, chemistry, and forensics as a student ambassador to local high schools. Perform demonstrations and get students involved in experiments, sparking a love for the sciences and showing them the possibilities with a career in the sciences at our annual Science Day, Preview Days, or Science Olympiad.
Student Organizations
Join student organizations in chemistry, anthropology, or criminal justice to expand your understanding of forensics. The American Chemical Society, Anthropology Society, and Criminal Justice Society all work to improve our community while providing valuable leadership and educational experiences for members.