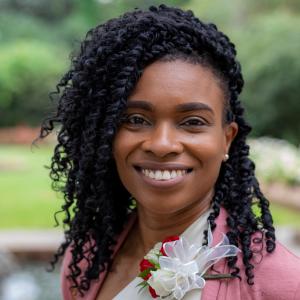 Chief Diversity Officer
Associate Professor
Biography
Kiwana McClung is the Interim Chief Diversity Officer in the Office for Campus Diversity and an Associate Professor in the School of Architecture and Design, College of the Arts at the University of Louisiana at Lafayette. In her role as Interim Chief Diversity Officer, Kiwana is responsible for fostering diversity among students, faculty, and staff, as well as ensuring that underrepresented groups have equal access to educational opportunities and resources.
Kiwana has been a faculty member in the School of Architecture and Design since the Fall of 2013, teaching design courses across the curriculum, from the beginning design to graduate studios and seminars. Prior to joining the faculty at UL Lafayette, Kiwana worked as an Architectural Designer for several firms around South Louisiana.
A graduate of Louisiana State University's School of Architecture and Design, Kiwana is nationally recognized for her research and efforts toward increasing diversity within a school of architecture and curricula. She was recently recognized by the University of Louisiana at Lafayette as their 2021 Eminent Scholar in Leadership and Service, one of the highest honors awarded by UL.
Education
B.A. - Bachelor's of Arts and Humanities, May 2008
Southern University and A&M College,  Baton Rouge, LA
M.ARCH - Master's of Architecture, May 2012
Louisiana State University and A&M College, Baton Rouge, LA
Student Research/Collaboration
Diversity in the Design Professions; Socially Responsive & Culturally Restorative Design; Social Justice Design; Architectural and Spatial History of Underrepresented Cultures; Community Design for Resiliency
Opportunities for Student Research/Collaboration:
Architectural
Community Design and Development, particularly the temporal, contextual, and socio-environmental analysis of southern, residential communities and environments as a rostrum for extrapolating opportunities for architectural innovations that ameliorate their resiliency, structural integrity, and cultural vibrancy.
Diversity in Design Education 
Exploring the effects of pervasive minimization, institutionalized racism in architectural education, and how lack of diversity in curricula has perpetuated the undesirability of pursuing contemporary architectural education for minority design students. Exploring methods to counter this condition and increase diversity in architectural programs and curricula.
Cultural Spatial Studies 
Explore the spatial intricacies of our increasingly globalized and/or multi-cultural societies, explore how they affect us all, and gain an awareness of the implications of the decisions they will make as future designers and planners. Identifying Cultural clashes, unearthed histories, crossings of religious beliefs, alternative lifestyle choices, and ethnic/physical differences that create intersections in our society that are not only social but also spatial.
Publications
Woods, Cheylon, Kiwanan McClung, (Editors). Through Mama's Eyes: Unique Perspectives on Southern Matriarchy [Book], Collection of Essays; University of Louisiana at Lafayette Press, October 26, 2021
McClung, Kiwanan (Author). Building H.E.R. House: Interpreting Gendered Spaces, Visualizing Matriarchal Autonomous Tradition and the Anecdotal Exploration of Southern Black Female Spatial Misogynoir in Literature [Book], Essay in the Book Through Mama's Eyes: Unique Perspectives On Southern Matriarchy, edited by Cheylon Woods and Kiwana McClung; University of Louisiana at Lafayette Press, October 26, 2021
Awards & Recognition
Friends of the Humanities Founders Award Winner
Recipient; College of the Arts, Lafayette, LA; Awarded Spring 2021.
ULL  Eminent Scholar Award Winner - Leadership in Service Recipient; College of the Arts Candidate, Lafayette, LA; Awarded Spring 2021.
McClung, K. (2016). 2016 ACSA Architectural Education Awards. 
Recipient, Diversity Achievement Award; Association of Collegiate Schools Architecture 2016 Annual Meeting, Seattle, WA