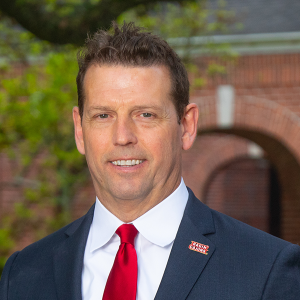 Vice President for Intercollegiate Athletics
Cox Communications Building
Biography
Dr. Bryan Maggard, a native of Dexter, Kansas, joined the Ragin' Cajuns in 2017 after spending 21 years at the University of Missouri where he served as the Tigers' Executive Associate Athletic Director.
 
In his years leading the Ragin' Cajuns, Dr. Maggard has brought new excitement to the Louisiana fan base while continuing to build on one of college athletics' most unique brands.
The recruitment of talented student-athletes has been a matter of importance to Dr. Maggard during his time with the Ragin' Cajuns. That point of emphasis has paid dividends with Louisiana Football for the 2019 and 2020 signing classes, as both groups were rated as the No. 1 recruiting class in the Sun Belt Conference by 247Sports.com. 
 
Aesthetic improvements, both big and small, have come to the Ragin' Cajuns' sports park through Louisiana's 10-year multimedia rights partnership with Learfield, a first-of-its-kind deal inked in March 2018 by Dr. Maggard and the University's administration. Learfield, and its local extension, Ragin' Cajuns Sports Properties, have worked tirelessly to expand the brand of the Ragin' Cajuns both locally, regionally, and nationally. 
 
Putting excellent leadership in charge of Louisiana's teams has been one of Dr. Maggard's clear objectives during his tenure, with an emphasis on the student-athlete experience and the culture surrounding the program of the utmost importance. 
 
Dr. Maggard has served his profession and community over the past several years. He is a certified APR consultant with the NCAA/N4A and has served as a facilitator for various student-athlete leadership summits. In 2005, Dr. Maggard was invited to serve on a NFL Continuing Education Program Advisory Committee and did so through 2009. He has served as an accreditation consultant in the for-profit education industry and provides program certification consulting for athletic academic support programs through the N4A. Dr. Maggard is a Past Board President for the Boys and Girls Club of Columbia.