Welcoming
Building
Ragin'
A brick wall, 100 feet long and six feet tall at its peak, has been built in front of Martin Hall.
It has been dubbed the Welcome Wall because it's our way of saying we're glad you're here, whether you're a visitor or a member of our Ragin' Cajun family.
Welcoming
Building
Ragin'
The renovated and expanded Student Union is a linchpin on campus.
Across the street from new residence halls and adjacent to Cypress Lake, the U offers lots of dining options, meeting spaces, a post office and the Ragin' Cajuns Store.
Welcoming
Building
Ragin'
What's 14 feet tall, weighs 3,000 pounds and embodies our Ragin' Cajuns spirit? A 3-D, steel fleur-de-lis. It's part of a fountain that's the centerpiece of the Quadrangle, which was recently redesigned with the help of some talented UL Lafayette students.
Thanks to LED lighting, it can become a kaleidoscope of colors at night.
July 11th, 2018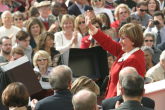 Planning is underway for the establishment of the Kathleen Babineaux Blanco Public Policy Center at the University of...
Read More ➝
June 14th, 2018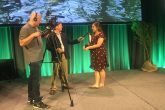 The University of Louisiana at Lafayette's American Society of Civil Engineers student chapter recently earned a...
Read More ➝
June 13th, 2018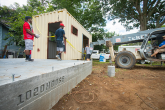 Sections of the 1020 House shipped out Wednesday from the University of Louisiana at Lafayette campus. Forklifts and...
Read More ➝
July 21st, 2018
Come to the museum and beat the summer heat with a free family admission day! You can enjoy games in the galleries,...
Read More ➝
July 27th, 2018
Enjoy an evening with museum staff as you taste Spanish wine and fine cheese in honor of the exhibition "Salvador Dalí...
Read More ➝
August 11th, 2018
Join us on the second Saturday each month for yoga at the Hilliard Museum led by an RYT-200 certified instructor....
Read More ➝