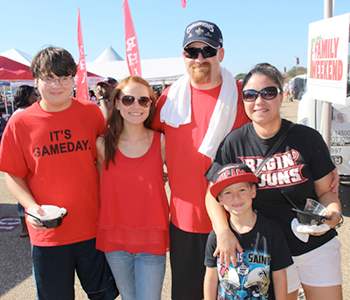 Family Weekend is an informative and engaging weekend! Over the course of the Weekend, the University of Louisiana at Lafayette welcomes parents and families to visit campus in order to interact with the organizations, people and places that have become so important to your student.
This year, we look forward to interesting programs by staff, presentations from faculty, competitive athletic performances and interactions with our outstanding alumni.
Who should attend?
Parents, siblings, family and friends of UL Lafayette students.
When is Family Weekend?
Family Weekend 2017 will be held September 22-24.
How do I register for Family Weekend?
Registration will open in July.
Register online for the events you want to attend. Registration will open closer to Family Weekend.
NOTE: the only physical ticket needed will be for the football game. All other Family Weekend events will have a list of those registered at the event (this includes Family Weekend tailgating).
Why should I attend Family Weekend?
In addition to the opportunity to experience programs, discussions, activities, athletic events and more from members throughout the UL Lafayette community, attending Family Weekend also provides a wonderful chance for you to spend quality time with your student. Not only does it strengthen your relationship, but it can also provide your student with the opportunity to bridge the gap between their lives both on and away from campus.
What should I do if I have additional questions about Family Weekend?
Give us a call at 337-482-6276 or email deanofstudents@louisiana.edu or dana@louisiana.edu if you have questions regarding the weekend's activities.
Where should I park?
Families may park in the Earl K. Long parking lot on the corner of McKinley and St. Mary, or in the Alumni Center parking lot located behind the Center. Overflow parking will be in the Girard Park Circle Parking Tower. Parking for families is free on Friday, Saturday, and Sunday. Download the map to see the parking lots.
2016 Family Weekend Schedule
We are working on scheduling all of the events for the 2017 Family Weekend. Take a look at the 2016 schedule to get an idea of what we have in store for you!
Need help finding your way around campus? Download the map. 
Friday, September 16
7:30 a.m. - 6 p.m. | The Ragin' Cajuns Store will be open
10 a.m. - 7 p.m. | Check -in & pick up your Family Weekend Schedule in the Alumni Center
10 a.m. - 5 p.m. | Visit the Paul and Lulu Hilliard University Art Museum
1 p.m. - 3:45 p.m. | Academic Showcases
4 p.m. - 5 p.m. | From College Experience to Career Success Alumni Panel
5 p.m. - 6 p.m. | President's Reception
6 p.m. - 8 p.m. | Dinner on your own / Downtown Alive!
7 p.m. - 9 p.m. | Ragin' Cajuns Soccer vs. Georgia State*
8 p.m. - 10 p.m. | Movie Night: Finding Dory
Saturday, September 17
8:00 a.m. - 1:30 p.m. | Mcllhenny's Tabasco Tour *
8:45 a.m. - 11 a.m. | Tour the Student Athlete Performance Center #1*
9 a.m. - 12 p.m. | Paddle the Martin*
9:45 a.m. - 11 a.m. | Tour the Student Athlete Performance Center #2*
10 a.m. - 5 p.m. | Visit the Paul and Lulu Hilliard University Art Museum
11:30 a.m. - 1 p.m. | Jazz Brunch*
3 p.m. - 6 p.m. |  Family Weekend Tailgate*
6 p.m. - 9 p.m. | Ragin' Cajuns Football vs. South Alabama*
Sunday, September 18
11:30 a.m. - 1:30 p.m. | Jazz Brunch*
1 p.m. - 3 p.m. | Ragin' Cajuns Soccer vs. University of Arkansas Little Rock*

*sign-up and/or fees required