Yell Like Hell
Thursday, October 31, 2013 - 5:30pm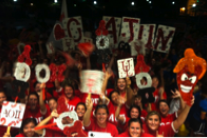 Thursday, October 31
Blackham Coliseum. Doors will open at 5:30 pm and the event will begin at 6 pm.
Student organizations will compete for the program with the most spirit.
Free admission.
Buses will shuttle on-campus students to and from Blackham Coliseum from 5-7 p.m.  For more information please contact the Student Union at 337-482-6939.
NOTE: Yell Like Hell was originally scheduled for 6:30 p.m. at E.K. Long Gym, but the time and location have been changed.