UL Homecoming Concert
Thursday, October 31, 2013 - 8:00pm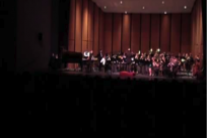 Homecoming 2013:  "Best Week Ever" (a theme involving reality TV shows)
University Wind Ensemble
Program highlights include Nelson's HOMAGE ON B--A--C--H and Wagner's TRAUERSINFONIE. In keeping with the theme, you'll hear REALITY TV, written and sung by Andrea Hochkeppel; along with the stirring CONCERTO FOR CELL PHONE.  For Halloween, you'll hear Eric Whitacre's GHOST TRAIN and experience VOODOO by Dan Bukvich, which is performed in total darkness.  VARIATIONS ON AMERICA, by Ives; and Maslanka's MOTHER EARTH round out the program.
Thursday, October 31, 2013
Angelle Auditorium 8:00 p.m.
Admission is free.