The University is taking safety measures to maintain the cleanliness of our campus to mitigate any spread of a possible infection.
Our custodial staff meets daily to discuss and follow up on all safety requirements, updates, and changes regarding the COVID-19 virus. Academic building inspections are taking place multiple times a day across our campus. The staff is using approved disinfecting agents to kill all bacterial, viral, and infection droplets on all surfaces, door handles, stair rails, restroom facilities, and water fountains. All hand sanitizing dispensers are checked multiple times daily.
Student Health FAQs    |    Employee Health FAQs
Coronavirus Safety Advice & Tips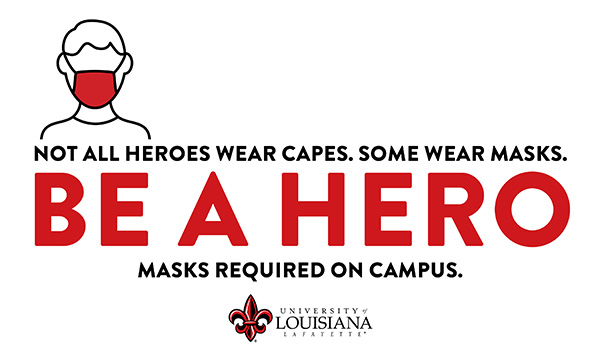 Student Health 
Where can I get a COVID-19 test?
The University of Louisiana at Lafayette has partnered with the Louisiana Department of Health to establish a free COVID-19 testing site on campus.
Free, walk-up testing is being held from 9 a.m. to 3 p.m. Monday-Friday for students and faculty and staff members. A small tent will be set up in the green space near the UL Lafayette Student Union and Cypress Lake Plaza, near the intersection of Hebrard Boulevard and Boucher Street.
Read more about COVID-19 testing on campus.
What if I have symptoms or have been exposed to COVID-19?
If you are experiencing COVID or flu-like symptoms, go home/stay in your residence, avoid contact with others, inform your roommates, and call the Student Health Center at 337-482-1328.
What if I have been told to quarantine because I may be positive or may have been exposed to COVID-19?
If you are told quarantine or isolate because of you have been exposed to COVID-19 or are presumed positive because of symptoms and testing, complete the isolation and quarantine form.
What should I do if I am immuno-compromised, live with someone who is, or I just don't feel comfortable coming to courses in person this semester?
Consider your personal situation and determine if you can attend face-to-face classes. If you determine you should not attend classes on campus, review the course schedule and choose classes that are held online, remote, or that are HyFlex.
Though HyFlex courses have an in-person component, many can be modified to 100-percent remote delivery by working with the instructor.
Do I have to wear a mask on campus?
All students, faculty, staff, and visitors must wear masks in public areas.
Masks will be available in all face-to-face classrooms, though students are encouraged to wear their own if they have one.
What if I forget to bring my face mask to campus?
Disposable face masks will be available in all buildings, residence halls, and departments across campus should you forget, lose, or misplace yours.
What should I do if I can't wear a mask due to my health?
Students with disabilities should register with the Office of Disability Services to discuss accommodations for the Spring 2021 semester. This includes concerns about wearing masks due to a disability.
What should I do if I am feeling anxious or overwhelmed by the COVID-19 pandemic, my courses, or anything else?
Talk to someone. The University's Counseling and Testing Center offers counseling sessions to students and employees for free.
The Counseling and Testing Center is offering sessions by phone and online only. To schedule a session, please contact us at our office at 337-482-6480 or by email at counseling@louisiana.edu.
Employee Health
If I return to campus and believe I am sick, what do I do?
You should begin by completing the Employee Daily Self-Check questionnaire that will aid you in determining whether to report to work or to take other measures. The information you provide in the questionnaire will be maintained by Human Resources in a confidential manner.
If I am diagnosed with COVID-19, who should I notify?
Immediately notify Malika Oubre, Benefits Coordinator, in Human Resources if you are diagnosed positive for COVID-19 or ordered to self-quarantine. You can email malika@louisiana.edu or contact Human Resources through the Employee Daily Self-Check questionnaire.
How will the University inform community members of protocols around campus?
Information regarding campus protocols will be available on this website and share on our social media channels.
How will you make everyone follow protocols about social distancing if the University resumes on-campus activities for the fall semester?
Faculty and staff are required to follow the employee guidelines addressing workplace behaviors. Employees failing to practice proper social distancing may be subject to corrective action.
Are face masks required?
Employees will be required to wear masks in situations where social distancing is impracticable. Learn more about personal safety practices on the Human Resources website.
Will the University provide face masks?
The University will provide two washable, cloth face-coverings for each employee who returns to work on campus. Cloth face masks must be requested by the dean, department head, or director of each area on campus. The request must be submitted through the Online Work Order Form by choosing "Safety" under Type of Service. Requests may be made multiple times as the need arises.
Disposable masks will also be provided by the University if needed. Face masks can be obtained at Central Receiving at 429 Cherry St. and picked up by departmental representatives.
Will open workstation areas be reconfigured for physical distancing when on-campus activities resume?
Yes, where possible. Otherwise, employees will be expected to institute other social distancing strategies such as alternating workdays or remote working.
How will workspaces and offices be maintained and cleaned?
The Office of Environmental Health and Safety is responsible for the approval, central storage, and distribution of disinfectants. In collaboration with the Office of Student Health Services and ABM America (the University's custodial vendor), the following are approved products that will remove contaminants from any surface. They include:
VIREX surface cleaner;
hand sanitizing liquid;
disinfectant wipes; and
bleach. 
These products are also available at Central Receiving at 429 Cherry St. and may be picked up by departmental representatives.

Plexiglass face masks and shields are being ordered for workstations of employees who will have to interact face-to-face with others and are unable to social distance.

Please submit an Online Work Order Form for any of the needs above. Work Orders can be submitted via the online work order form. Choose "Safety" under Type of Service.

To minimize costs, the Office of Purchasing requests that departments refrain from purchasing these items on LaCarte cards or otherwise. For other emergency supply needs, please email purchasing@louisiana.edu.
What should I do if I have come in contact with an individual that is known to have tested positive for COVID-19 or lives with someone who has tested positive?
You should seek and follow the advice of your healthcare provider and notify Human Resources if you are instructed not to return to work.
What are the university's self-isolating procedures?
Employees residing in University housing should self-quarantine based on the advice of their healthcare provider as well as notify Human Resources. You must also notify Student Health Services if you reside in a facility occupied by students.
What is the University doing to support employees who are sick?
Employees who are sick with COVID-19 or other illnesses have various leave options available to them. Contact Human Resources for more information relevant to their specific situation.
What is the University doing to support employees who are caring for dependents at home due to the COVID-19 pandemic?
Employees who are caring for dependents have various leave options available to them. Contact Human Resources for more information relevant to their specific situation.
What should I do if I am at higher risk of severe illness from COVID-19?
Contact Human Resources for information and options based on your specific situation. Keep in mind that you may be required to provide a statement from your healthcare provider to support your need for accommodations.
Whom should I contact if I am feeling anxious, have experienced losses, or am struggling to cope and to come to terms with the impact of the COVID-19?
Employees seeking emotional support for coping with the impact of COVID-19 can contact the Counseling and Testing Center or contact their health insurance provider for mental healthcare coverage options.
If I have experienced harassment or bias related to concerns about the virus, who should I contact?
Fear of the COVID-19 pandemic should not be misdirected against individuals because of a protected characteristic, including their national origin, race, or other prohibited bases. All supervisors and managers are responsible for watching for, stopping, and reporting any harassment or other discrimination to Human Resources Compliance at hrcompliance@louisiana.edu. The University will immediately review any allegations of harassment or discrimination and take appropriate action.
If a vaccine is created, will proof of the vaccine be required to work on campus?
No decision has been on this issue at this time. The University will review the efficacy of requiring proof of vaccination at the time a vaccine is developed, following state and federal guidelines on immunization requirements when/if they are established.